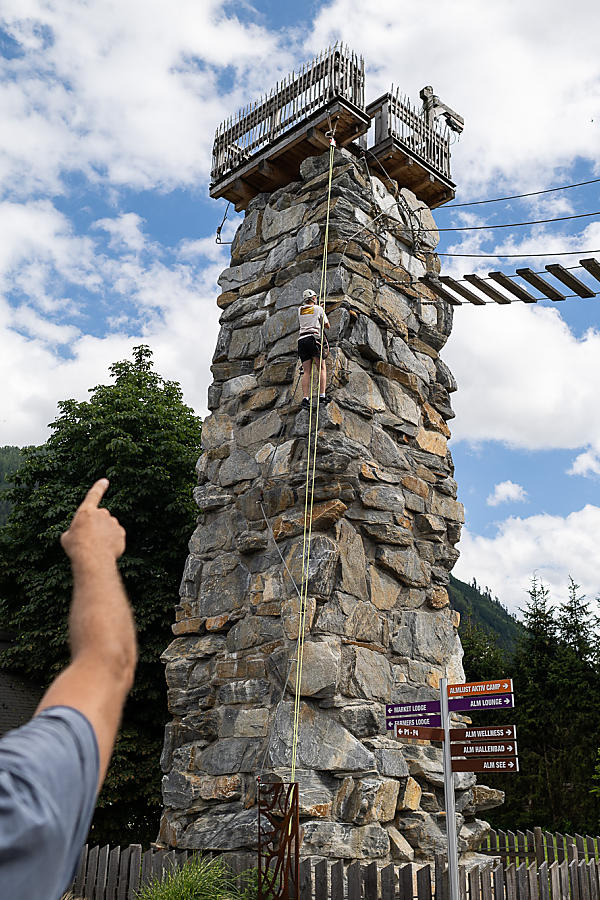 A rocky affair
You. A rope. A 14-metre high tor. Any questions?
Our climbing tower rocks. It is the emblem of almlust and probably the first thing you'll find when you arrive. The 14-metre high "almlustrock" made of real rocks offers nine climbing routes at different levels for beginners and pros. Let our experienced guide belay you and give you some insider tips. Of course, you can also climb and belay with your own equipment.
Breakfast on the almlustrock terrace
The best recipe to perk you up in the morning? A breakfast at an airy height! The via ferrata on the almlustrock takes you to the most spectacular breakfast terrace far and wide. With the help of a rope winch, we'll serve you a basket full of regional delicacies. An experience that you should not miss – on your rocks, hold tight, up we go!
Reserve your climbing experience
Rock climbing with a guide, a breakfast on the almlustrock terrace or climbing and belaying with your own equipment.