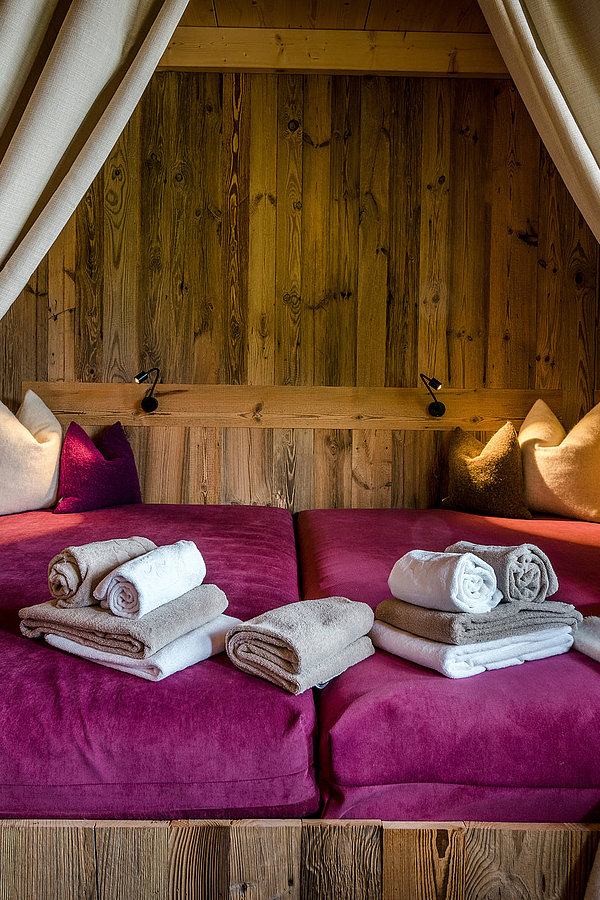 Wellness for two
Treat yourself to the luxury of absolute private well-being.
A lovingly, rustically furnished room. A sauna and a lounger. A wooden hot tub on a completely private terrace – only the Flachau mountains, your loved one and you. This is how the private spa à la almlust works. For lovebirds, siblings, Mum and daughter or friends for life.
Open sesame!
Behind an inconspicuous door to a room far away from the actual spa area, there's a hidden treasure trove of relaxation. Wrapped in your fluffiest bathrobe, you'll enter here and emerge totally relaxed two hours later. For toasting and snacking, an ice-cold bottle of sparkling wine, fresh fruit and aromatic herbal teas are available.
Just you, me and many moments of happiness
Even though the Alm Spa and Alm lake are so beautiful – sometimes you simply need an extra portion of peace and privacy. Our private spa is a quiet nest where you can relax undisturbed. And a special spot to celebrate life's special occasions. In short: the perfect surprise for an anniversary, a birthday, for young parents to recharge their batteries or just to say "thank you".
Pssst: By the way, our private spa is the perfect place in which to pop your better half that all-important question. Whether it's rose petals, candles, your favourite song or champagne – we're always happy to fulfil your individual wishes.
Reserve the private spa area online
Make a particularly exclusive wellness experience the highlight of your time at almlust.