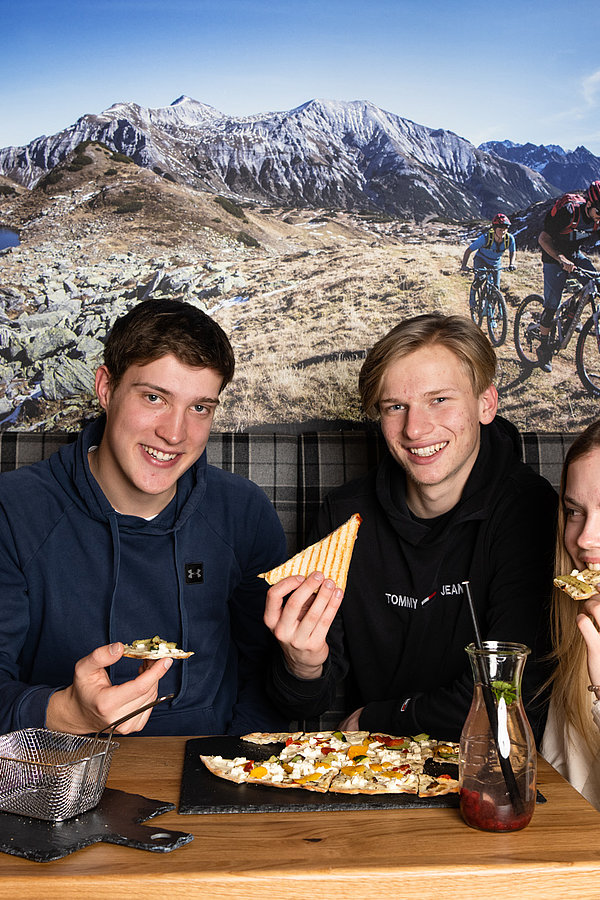 Want snacks and drinks?
Room service, lunchboxes and daybar for in-between meals
If your stomach is growling during the day and you are not hanging from a rope, fighting against the current or or are on the trail of nature on the back of your bike, the almlust day bar and room service will help you out. Or you can pack a snack in your rucksack in the morning and refill your energy reserves on the way.
Lunchboxes to go
You know when there are so many tempting things to choose from at the breakfast buffet that you just want to pack something for later? Good news: With us you can! We can provide you with a box that you can fill yourself at the buffet. Perfect for an alpine meadow brunch or as a summit reward - it tastes best at altitude anyway.
Knock, knock... room service!
Whether it's a picnic basket for your excursion, a hearty alpine snack in the afternoon or a bottle of (sparkling) wine in the evening: We will be happy to bring our culinary delights to your room or you pick it up at the daybar - just a call is all it takes!
Daybar, how wonderful
The almlust Daybar is open daily from 10:00 am to 8:00 pm. Here you can enjoy small snacks like ham and cheese toasts, warm up with hot drinks or sip cool thirst quenchers. Starting with homemade Grantn water to Almspritzer - order your favorite drink to toast your vacation. Speaking of bars: For the sake of the environment, we decided against minibars in the room. Instead, we have a shared icebox in which each guest can cool things in their own box. Cool, isn't it?